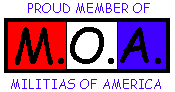 WEBRING LOGO
DIRECTIONS:
1. PASTE OUR RINGCODE INTO YOUR WEBSITE
2. RIGHT CLICK ON THE PICTURE ABOVE.
3. CLICK ON "SAVE AS"
4. WHEN SCREEN POPS UP, CLICK "SAVE"
5. RINGCODE WILL FIND LOGO AND INSERT IT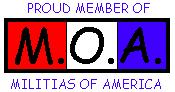 MILITIAS OF AMERICA webring

THIS IS WHAT YOU SHOULD SEE ON YOUR WEBPAGE WHEN YOU GET DONE.
PLEASE CONTACT ME AT IMREADY WHEN YOU GET IT UP SO I CAN ADD YOU TO THE WEBRING.